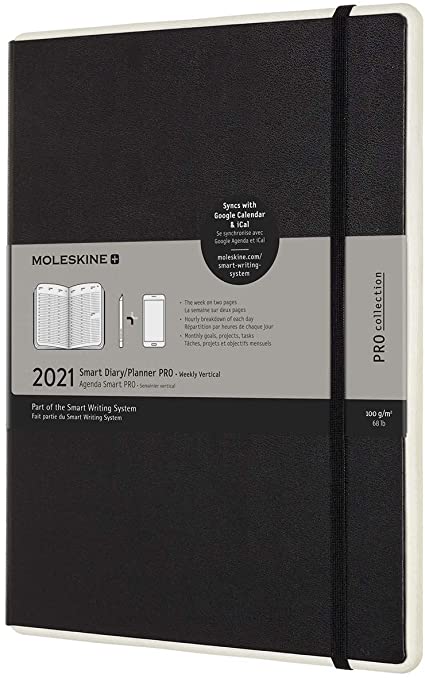 If it is true that what is written remains on the paper, one of the brands of agenda most famous worldwide has launched a new tool to organize your time. We are talking about the latest arrival in the house Moleskine, the Smart Planner, of the family of objects Smart Writing Set, which instantly digitizes the appointments written on the paper agenda, synchronizing them with the calendars of the devices Android and iOS.
The system consists of a taccuino Paper Tablet, a smart Pen+ e Moleskine Notes, the integrated app that allows you to edit and share content created on paper, by hand, without the need to take photos, upload files or scan documents.
Does it seem impossible to you? Not at all, it's all true: the Smart Planner is the heir to the Moleskine notebook, designed for the professionals of today, digitally connected, businessmen and students they prefer note down their appointments or develop their ideas first on paper, without giving up to the convenience of digital.
But how do you go from paper to digital? Thanks to a invisible grid, made with special technology Ncode and patented by NeoLAB Convergence, embedded within each page. In this way, the integrated app Moleskine Notes it is able to recognize and synchronize everything the Pen + writes.
Obviously they are not forgotten either appointments, the meetings and everything written in the layout of the planner on the left page: everything comes synchronized with Google Calendar and iCal. Please note, however, that the Smart Planner only works in conjunction with the Smart Writing Set and syncs with Google Calendar, Moleskine Timepage, iCal and Microsoft Outlook.
Are you curious to find out which others features has this technological agenda in store for you? Let's start by revealing that its design is specially designed with a rounded profile, reminiscent of the classic diary, while his form slim makes Pen + a comfortable writing companion. He even owns 1000 pages memory, to work even when you are offline.
All this at inaccessible prices? Absolutely not, considering that the Smart Writing Set (Paper Tablet and Pen +) will cost you 229 € and the Smart Planner only 29.90 €, all available both on the Official site, both in physical stores and resellers. Ready to live the new experience of connection between physical and digital agenda?
Tagsagenda app moleskine Moleskine Notes NeoLAB Convergence Smart Planner The Moleskine Smart Planner revolutionizes the concept of diary: here is the union of paper and digital