According to some rumors circulating on the Net it seems that Apple will release the new one Fifth generation iPad Air in 2022. According to a report by The Elec, the iPad will have a OLED display from 10.8 inch which "combines organic material and inorganic material in alternative layers to protect the organic material from water and oxygen". And this would be just the first of Apple's devices to have such a display. In the future, in fact, the Cupertino company could even optimize this equipment.
Apple iPad Air: fifth generation model coming in 2022
Next year we may see the new fifth generation Apple iPad Air with OLED display on the market. In 2023, however, the device could be equipped with the LTPO technology which enables the ProMotion 120Hz refresh rate, a feature currently exclusive to the iPad Pro. And that's not all. "For the launch of the iPads in 2023, Cupertino could use a flexible OLED instead of a rigid OLED. It could also change the TFT from LTPS to low temperature polycrystalline oxide (LTPO). The RGB emission layer could also be the "tandem" structure in which two layers of them are stacked together ". So reports The Elec report.
READ ALSO: iPad screen gets bigger
Some time ago, the South Korean website ETNews also announced that the new iPads would have OLED displays, but without specifying which specific models they were. Conversely, a new report today revealed that the new Apple iPad Air may have a 10.86-inch display. A detail that had already been anticipated by analyst Ming-Chi Kuo, who had reported that the 2022 models would have an OLED display. The mini-LEDs, on the other hand, will remain exclusive to the high-end models, having been released last April on the iPad Pro. Now, therefore, we just have to wait and see what the Cupertino company has in store for us.
Discount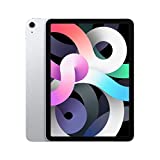 2020 Apple iPad Air (10,9", Wi-Fi, 64GB) - Argento (4ª...
Amazing 10.9 inch Liquid Retina display with True Tone and P3 wide color
A14 bionic chip with neural engine
Touch ID for secure authentication and Apple Pay
669,00 EUR −5% 634,00 EUR Buy on Amazon Tagsapple ipad air OLED The new iPad Air will be on the market in 2022