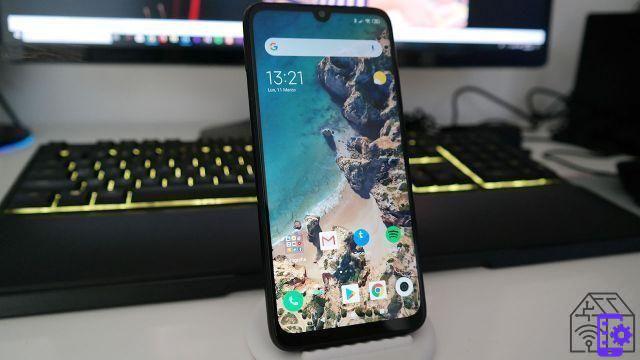 In China it came out a few weeks ago, but we officially arrive today. I'm talking about Xiaomi Note 7 Redmire, the low-end device of the Chinese giant that seems destined to dwarf the competition. Sure, it's not perfect, but it does have some punchy strengths. Which? I'll reveal them to you in this review.
Xiaomi Redmi Note 7: the technical sheet
As always, before analyzing the smartphone in detail, let's take a look at its technical characteristics.
Dimensions: 159,2 x 75,2 x 8,1 mm
Weight: 186 g
Display: 6,3″ IPS LCD – 1080 x 2340 pixel
CPU: Qualcomm Snapdragon 660
GPU: Adreno 512
RAM: 3 / 4 GB
Memory: 32/64 GB - expandable via microSD
Network: 4G LTE – Dual SIM
Connectivity: Wi-Fi 802.11 a/b/g/n/ac, Bluetooth 5.0, USB Type-C, GPS
Battery: 4000 mAh
Rear camera: 48 MP + 5 MP
Front Camera: 13 MP
Videos: Full HD @30 fps
Operating system: Android 9.0 Pie with MIUI 10
Resistant, elegant and with the inevitable notch
Metal profile, glass back cover and protruding rear camera: the design of this Redmi Note 7 is not particularly innovative, but it is still well-finished and capable of giving an almost premium feeling. The ergonomics of the device are excellent, although the 4000 mAh battery carries with it a certainly important weight.
Also of note is the presence of the always beloved 3,5 mm jack, located on the upper side, and that of the sensor for reading fingerprints, located on the back of the device. The latter is fast and reliable, but if you don't go crazy you can always use the unlocking through the two-dimensional recognition of the face, perhaps less secure but still just as fast.
The display is a 6,3-inch IPS LCD, equipped with the now inevitable drop notch. The screen gives natural colors, quite deep blacks and in general a good brightness.
All the power you need
Redmi Note 7 monta a Snapdragon 660 processor, flanked in our case by 4 GB of RAM and the Adreno 512 GPU. The result is a snappy device, perfect for everyday use and capable of giving us some satisfaction even during gaming sessions. Then you will find enough space on board, space that you can still expand via microSD, but only if you are willing to sacrifice the second SIM slot.
Good connectivity, complete with dual band WiFi and Bluetooth 5.0. But it was what made me turn up my nose the absence of NFC, now indispensable in 2019 given the widespread diffusion of digital payment systems. In short, forget about Google Pay.
To surprise me, however, the autonomy has taken care of it. The 4000 mah of the battery of this Xiaomi Redmi Note 7 not only managed to take me to the end of the day, but even to make me covered two full days of use.
Before moving on to the camera let me spend a few words on MIUI 10. Xiaomi seems to have learned nothing in recent years, despite the fact that the message launched by users was loud and clear. What am I talking about? Of the usual invisible notifications. Yes, even Redmi Note 7 has inherited the disappearing notifications, the ones you can see for a few seconds in the status bar and then disappear into the ether. Then the very small notification LED located on the lower frame is useless. You will practically not even notice its presence.
Of course this does not mean that the MIUI 10 is absolutely to be thrown away. In reality, it gives us some interesting features, such as the ability to clone some messaging applications to use multiple accounts at the same time, but the notification problem still remains to be solved, also because you risk losing information and important messages unwittingly.
An amazing camera
Redmi Note 7 if you present with a 48 megapixel main sensor, flanked by a second camera from 5 megapixel which takes care of managing the depth. Obviously you shouldn't expect huge photographs: in reality the final shots are 12 megapixels, the result of an interpolation process that gives us rather defined and certainly above average photographs, at least for the price range of this smartphone.
Well there Night mode, that yes, it's not perfect, but it still delivers convincing results, as well as the 13 megapixel front camera, which gives very good selfies. The videos are a little less exciting: the stabilization is not exactly excellent and will therefore be a little shaky.
Xiaomi Redmi Note 7: buy it or not buy it?
Redmi Note 7 definitely is un best buy, a device that offers everything you need in everyday life at a truly super competitive price. In fact, you can grab the 3 GB version of RAM and 32 GB of internal memory for only 179 euro, while the model we tested, from 4/64 GB, is sold at 199 euro. In short, the new Xiaomi device will give many headaches to the competition, not only in its range - the low one - but also in the mid-range.
Finally, I would like to point out that Xiaomi Redmi Note 7 in the 4GB / 64GB version will be available starting from March 15th, while for the 3/32 GB version you will have to wait until March 21st.
Xiaomi Note 7 Redmire
Pro
Excellent build quality
Good performance
Excellent battery
Convincing camera
Super competitive price
Cons
Bad notification handling
The NFC is missing