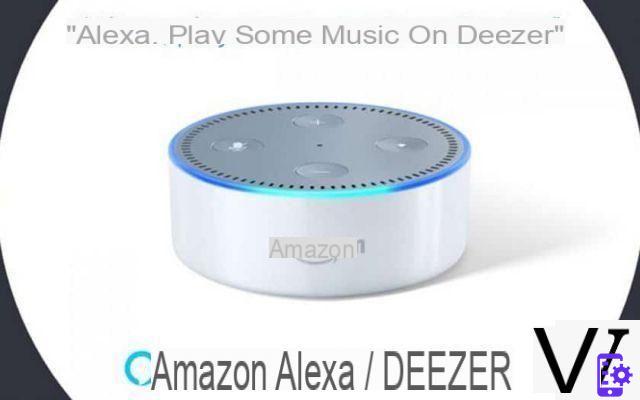 It is now possible to listen to music on Deezer in its free formula via Alexa on Amazon Echo speakers. This is also the case on the Freebox Delta (Dévialet player) and on other speakers integrating the Amazon personal assistant. This small step forward, which will delight many users, however comes with a number of limitations.
Launching music on Deezer via Alexa on your Amazon Echo speaker is now possible with the free option of the streaming service. This was already the case for those who have a paid subscription. All you had to do was activate the Deezer Skill and log into your Deezer Premium account and you're done. The functionality is open to users of the free option of the streaming service, but with some restrictions.
Amazon Echo: Deezer's free plan is accessible via Alexa
We are witnessing a war of music streaming applications on the front of connected speakers. Google announced in April that YouTube Music was now available for free on Google Home and on connected speakers compatible with Google Assistant. A few days earlier, we reported that a free version of Amazon Music was in the works for Amazon's Echo speakers.
This novelty is now effective on the side of Deezer which announces on its support page the possibility of launching music by voice on Amazon Echo speakers with the free formula of its service. The possibility is offered on all other speakers compatible with Alexa, such as the Player Dévialet of the Freebox Delta.
There is certainly something to be enthusiastic about, but you should know that this offer comes with some restrictions. Ads will already be shown between certain songs, as is the case with YouTube Music in its free version on Google Assitant speakers. Furthermore, you will not be able to ask Alexa to play a specific song of your choice.
You will only be able to choose one musical genre, but Deezer promises that thanks to its Flow system, the songs will be selected in a relevant way according to your tastes and listening habits. Also, when you ask for an artist, a mix related to the music of the latter will be launched. To skip these limits, it is necessary to take out a Deezer subscription.
Share
Tweet
Share
Envoyer à un ami