Not all owners of Android smartphones and tablets will have noticed, but in the latest versions, Google's mobile operating system has become increasingly modular. It means that more and more parts of the system are detached and made available as separate apps.
The choice was made by Google to allow the updating of critical parts of the system therectly from the Play Store (therefore quickly and without having to wait for system updates). A similar move was also made with the famous (and infamous) app Google Play Services, which is required to run all other Big G applications.
But let's get back to us, Android System WebView is an app that updates often, but few people know about its features. Even the description on the Play Store can appear a bit cryptic and therefore many wonder if it can be deleted to recover precious space.
Android System WebView: what is it?
The application is not among those found in your app drawer and cannot be launched via an icon. Android System WebView only starts when an app needs to open a web page. Maybe you've used it hundreds or thousands of times and weren't even aware of its existence.
The app is therefore nothing more than a very essential browser, based on the Chrome engine, which allows you to consult and browse Web pages. Thanks to this app, just tap the back button to return to the previous app from which it was opened.
Android System WebView has a fair number of features: allows you to bookmark a page, translate it, share it via social methea and chat, and open it in desktop version or therectly with a more complete web browser such as Chrome.
Android System WebView can be thesabled or removed
Starting with Android 7 (Nougat) the answer is usually yes, the app is visible in the list of your applications which is located in the appropriate menu under "Settings". If the app is installed on the system partition it can only be thesabled after uninstalling all updates (to save space).
Uninstalling or deactivating the app is simple, you have to follow the following steps: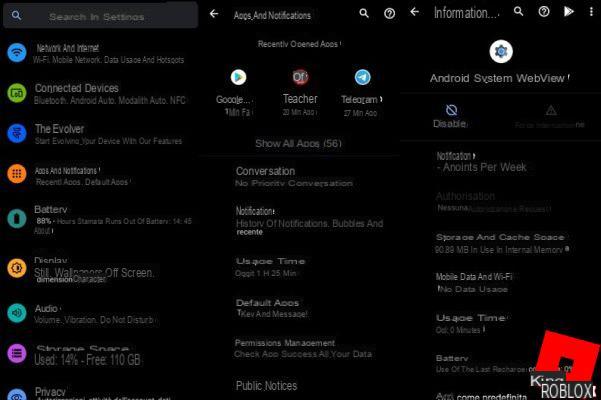 go to "Settings";
press on "Apps and notifications" and then on the item "Show all apps";
then tap on "Android System WebView", and on "Uninstall" or "Disable", as mentioned, it depends on the available options;
pressed a warning will try to thessuade you by saying that the system may not work properly, you can press on "Deactivate app".
The procedure is exactly this on Android 11 AOSP (the pure system version that you can find on the Pixels), it may vary slightly with manufacturers' customizations, or in previous versions of the system, but it remains substantially valid.
Unlike what happens with the Google Play Service eliminating it does not incur any particular problem, the web pages needed by the applications will be opened therectly through Chrome. Since a complete browser is necessarily more complex than the Webview, it may take a few more moments for the requested page to be thesplayed, but otherwise there should be no particular inconvenience.
Deleting the app allows you to save space, without particular repercussions, if Chrome is installed working and active. Furthermore, the app can be easily reinstalled therectly from the Play Store.
In case of deactivation the app can be reactivated following the same procedure inthecated and pressing the "Activate" button.
If, on the other hand, you have chosen to do without Chrome, then it is better to keep the Android System WebView app installed and active in order not to run into problems.
Android System WebView: what is it? can it be deactivated?