More complete files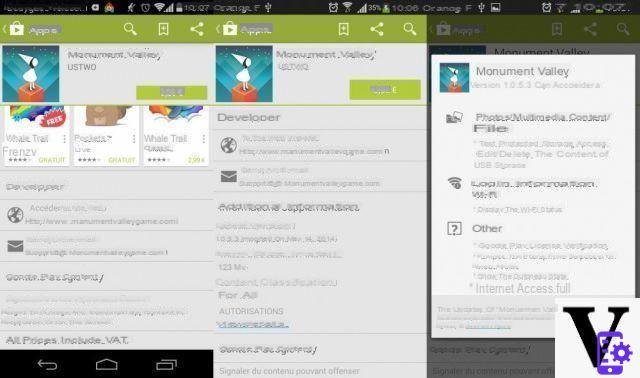 On the left, the old version of the application sheets. In the middle and on the right, the new version and the menu displayed by clicking on "Show details"
The most appreciable improvement of this new Google Play concerns adding information at the bottom of the application sheets. In addition to the traditional contact links with the developer, there is now additional information to know when the last update of the application was put online, the size of the file, the classification and especially a button to find out the details of the permissions required for its installation. Previously, you had to click on the price or on Install to read the permissions.
Clearer permission lists
On the left, the old version of the Permissions pop-up when you click on Install. On the right the new version.
We have to believe that Google has read our article dedicated to permissions since the display of permissions when installing an application is now much more readable. Google has added icons in front of each type of permission and has also revised the title of some of them. We won't complain!
A more attractive rating system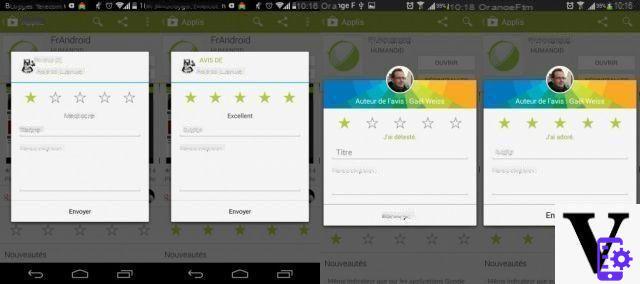 The two images on the left are the old version of the Google Play rating system. On the right, this is the new version.
Google has also changed the app rating menu. The user's Google+ profile is now better integrated and the menu is getting more colorful. Comments associated with stars have also been reviewed. A star now displays "I hated" while 5 stars displays "Loved it".
A little bigger buttons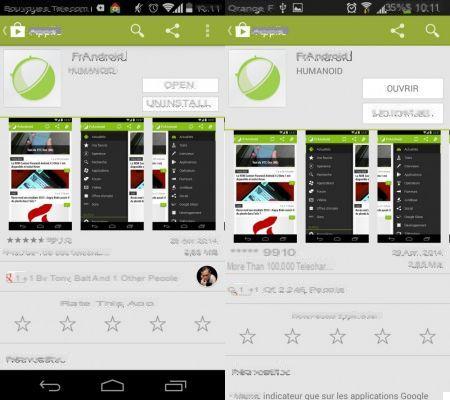 On the left, the old version of the application sheets. On the right the new version. The buttons are now a little bigger.
These are details, of course, but Google enlarged the Open, Uninstall and Update All buttons. And it is much more practical like that.
Download the apk of the new Google Play
The Google Play update is not yet available on all phones. However, it is possible to download the apk and install it directly on your phone. To do this, download the file below and place it in your phone (anywhere, it doesn't matter). Then use your smartphone's file explorer to find the apk and launch it. If you have enabled the ability to install apps that are not from Google Play, the apk should launch and update Google Play automatically. Here you are with Google Play in version 4.8.19, and in of the country please.
Download Google Play Store apk version 4.8.19 on AndroidFileHost (6,7 MB)
To follow us, we invite you to download our Android and iOS application. You will be able to read our articles, files, and watch our latest YouTube videos.
All the news from the Google Play Store
Google Play Store: get ready for a big redesign of the interface on the web version
Google Play Store: this discreet change is likely to annoy a lot
The crazy idea of ​​the boss of Epic Games: a common app store for Apple, Google and Microsoft
Android TV: the Google Play Store becomes more convenient for downloading applications
Google Play Store: How to Download and Install APK of Latest Update on Android and Android TV