Spotify is a streaming application (Android - Windows ) known for its many features. In particular, it presents more than 70 million titles - songs and podcasts combined - with new additions daily. If you want to know how to use Spotify and organize your favorite tracks, here is a tutorial dedicated to creating and sharing playlists.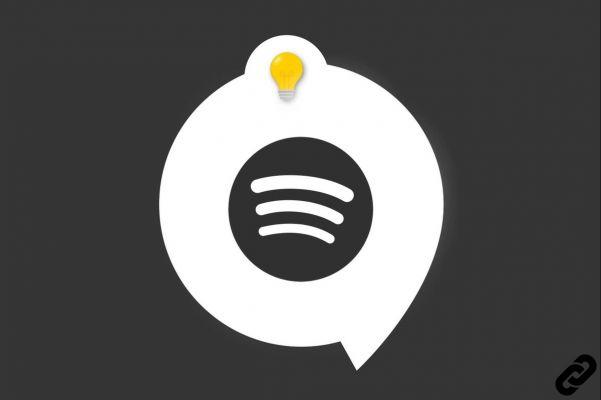 The Benefits of Spotify Playlists
The Spotify playlists, also commonly called playlists, allow you to compile up to 10 titles from various and varied artists. Their creation allows not only a time saving, but also to create atmospheres of the style "well-being before sleeping", "disco evening", "summer vacation" or even "focus while working".
All playlist themes are thus possible on Spotify thanks to the countless musical genres represented: from rock to pop without forgetting jazz, classical music, hip-hop etc. Moreover, the application does not hesitate to demonstrate it to you by offering ready-made playlists. These are particularly highlighted on thehomepage of the application or in the "Library"
Creating a playlist on phone and tablet
If you want to create a playlist yourself, just go to the "Library"then click on the icon"+" located at the top right. Spotify then prompts you to give a name to your playlist then click on "Create".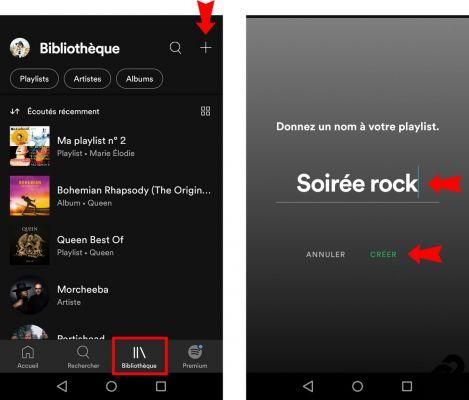 Once the new playlist has been created, click on the "Add titles". This gives access to a new page which presents a search bar and multiple suggestion lists. It is possible to navigate from one list to another with a swipe to the right or to the left.
To add a title using these lists, a simple click on the boutons "+" enough. Once your selection is complete, the arrow located at the top left allows you to return to the home page of the playlist.
Sharing Spotify playlists on smartphone and tablet
If you are satisfied with your new playlist and want to share it with your loved ones, go to the menu 3 points located at the top right.
From this it is possible to perform several actions such as adding new songs ou supprimer la playlist. Sharing is possible via the spotify code displayed under the cover of the playlist or by clicking on the tab "Share".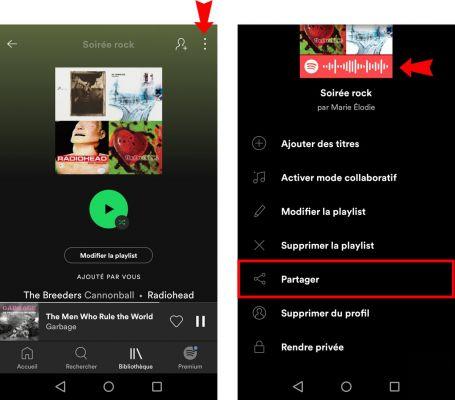 This tab presents many possibilities such as copy playlist link or the share via Whatsapp, Facebook, or SMS. For more options, feel free to click the round icon "Plus".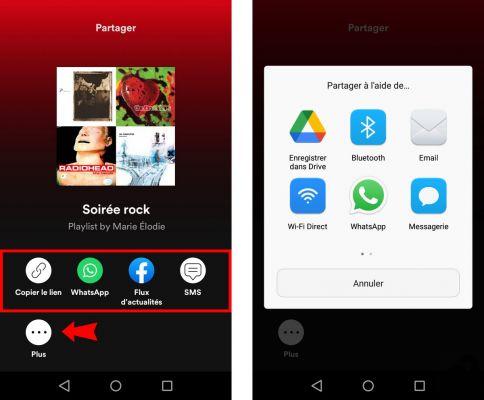 Creating a Playlist on PC
The steps to create a playlist on Spotify app for PC is very simple. From there, click on the "Create a playlist" located in the left navigation bar. In the new page that is displayed, and in order to customize the playlist, click this time on the large musical note icon.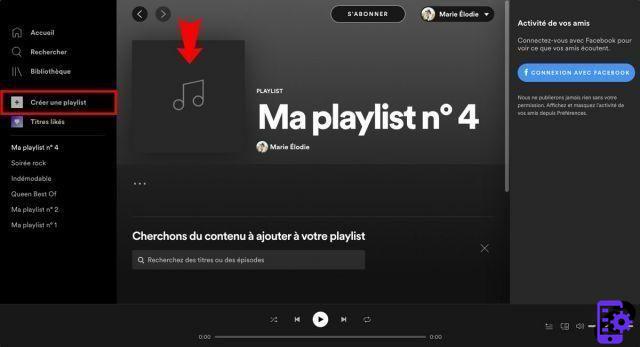 Thanks to the personalization window, it is possible to choose a new visual from images on your computer, change the title of the playlist and add comments (optional). Once your playlist is to your liking, click the "Save".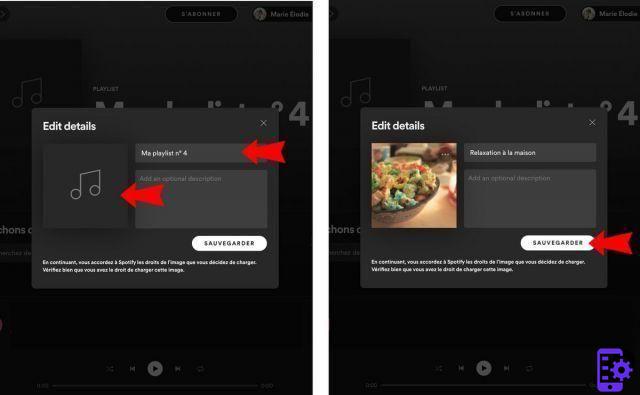 On the main page of your new playlist, it is possible to add content using the search bar. Clicking on "Add", the associated songs are automatically added to your playlist.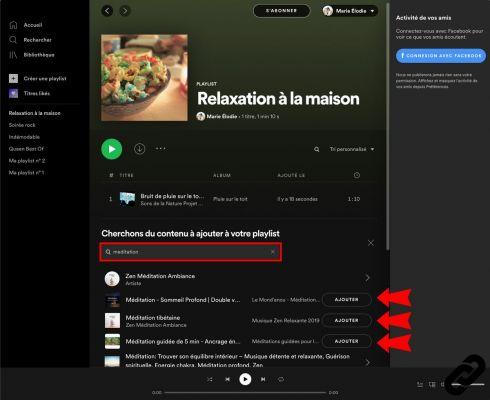 Sharing Spotify Playlists on PC
Finally, if you want to share your playlist, click on the menu 3 points which is near the green play button. A click on the tab "Share" finally allows access to the different sharing options for PC.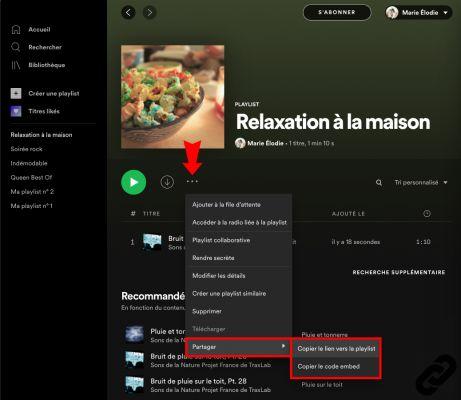 In the end, it is very easy to create a new playlist on the Spotify app for Android or PC. Imagined or not from specific themes, they can also be shared to other users via links, SMS, other applications etc.
To read also:
All our tutorials on Spotify
How to manage your Spotify account?
How to use Spotify?
How to connect Spotify to other devices?