La serie TV Friends it has already earned a LEGO set, the one dedicated to Central Perk, the venue that hosted the protagonists of the series for all 10 seasons. Apparently, however, a second one is about to arrive and to anticipate it is the same LEGO with an image published yesterday on his Facebook page. But what will this set be like?
A new LEGO set for the TV series Friends
The news does not catch us completely unprepared. Rumors about a new LEGO set dedicated to the TV series Friends have been circulating for a few weeks but have evolved over time. At the beginning, in fact, a named set was expected Monica & Rachel's Apartment (10292); the model appeared to cost $ 150 and was supposed to launch on May 19 for VIP members and June 1 for everyone else.
A more recent leak, however, shows a baptized set The Apartments, which therefore includes both Monica and Rachel's and Joey and Chandler's apartments, complete with a corridor to join the two houses and props to re-propose the Friends set to fans.
Visualizza questo post on Instagram
A post shared by Leaky Minifigure (@leaky_minifigure)
If so we would have in our hands a much larger model than that of the Central Perk which already owns 1070 pieces.
But to find out what this new model will look like we will have to wait a few more weeks but the image spread by LEGO gives us at least one certainty: the set will include all the protagonists of the series, then Rachel, Monica, Joey, Chandler, Phoebe and Ross.
The first images from the Legoland New York Resort, the new LEGO amusement park Offer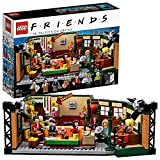 LEGO Ideas Central Perk from the TV Series Friends with ...
This LEGO Ideas set includes 7 new-for-September-2019 minifigures: Ross Geller, Rachel Green, Chandler Bing, Monica ...
CENTRAL PERK cafe toy contains the iconic living room with a sofa, armchair, 2 chairs and a table
3 green pillars, new for September 2019; umbrella stand with 2 umbrellas; window with "CENTRAL ...
69,99 EUR −5% 66,42 EUR Buy at Amazon TagsFriends LEGO Is LEGO about to launch a new set dedicated to the TV series Friends?