Jeff Bezos confirms the richest man in the world with a heritage of 211 billion dollars, thanks in part to the 4.7% increase in Amazon shares, after the Pentagon announced the cancellation of its cloud computing contract with Microsoft. An absolute record in the ranking of billionaires around the world. Only Elon Musk it had managed to reach 210 billion dollars for a short period, then returning to 181 billion. Enough to be the second richest man on earth. The third place, on the other hand, belongs to Bernard Arnault, head of the Louis Vuitton Moet Hennessy group of companies, whose fortune is around $ 169 billion.
Jeff Bezos confirms himself as the richest person in the world
Jeff Bezos began confirming himself as the richest person in the world as early as March, when Amazon's shares rose a staggering 20%. On the other hand, since the beginning of 2021 the entrepreneur's assets had grown by about 20 billion dollars. A success that also allowed a Mackenzie Scott, Bezos' ex-wife, to add 2.9 billion to her assets, of which 2.7 billion donated to charity. On the other hand, although Bezos has resigned from his role as CEO of Amazon, ne still holds 11% of the shares and is its executive chairman.
READ ALSO: Jeff Bezos retires: he is one of the richest men on the planet
After all, the news of Jeff Bezos' withdrawal from Amazon has really left us all amazed. For 27 years, in fact, he held the role of CEO of the company, achieving absolutely incredible results. And so the company, currently valued at $ 1.8 trillion, will be led by Andy jassy, who previously headed Amazon Web Services. Still, it will be impossible not to associate Bezos' name with that of Amazon. In 27 years, the entrepreneur has literally transformed a small online book sales business into one of the largest e-commerce and public cloud companies in the world. A success that has allowed him to earn a not indifferent record.
Discount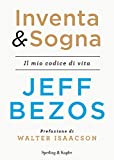 Invent & dream. My code of life
19,90 EUR −5% 18,90 EUR Buy on Amazon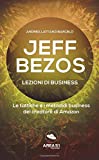 Jeff Bezos. Business Lessons: The tactics and methods of ...
Lattanzi Barcelò, Andrea (Author)
4,75 EUR Acquista su Amazon Tagsamazon Andy Jassy Jeff Bezos Jeff Bezos is the richest man in the world