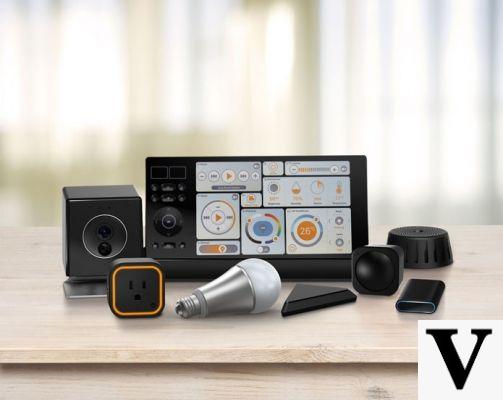 Smart home, smart homes, automatic and comfortably controllable via mobile devices. Do you think that this scenario until a few years ago seemed unthinkable. Today all this is possible, (more or less) cheap and very easy to use. The big problem is spoiled for choice because i smart home products are so many. Some extremely useful, others a little less. But how to extricate yourself in all this ocean of hi-tech devices? We will help you, with 10 tips to get the smart home perfect.
Google Home or Amazon Echo: the voice assistants
First of all if you want to have one smart home with all the trappings, in our opinion you absolutely must have one smart speaker thanks to which you can control all the intelligent products you have at home with the use of your voice. The two fiercest competitors right now are Google Home (with its Google Assistant) e Amazon Echo (with Amazon Alexa). They both do pretty much the same things even though - in our opinion - to date, the Google Home performs better than the Echo.
[amazon_link asins='B0792HCFTG,B079PPQJWP,B0794XQK5S,B07BRH8169′ template='ProductCarousel' store='gamspri02-21′ marketplace='IT' link_id='327aacdf-fb3c-11e8-9c7d-c7e3a7592087′]
READ ALSO: All smart home devices compatible with Google Home
Nest Thermostat, Google's smart thermostat
When the company like Google invests 3.2 billion dollars to buy your startup, surely you have done something good. To have caught the attention of Big G was the thermostat created by Nest: simple, minimal and intelligent. Nest Thermostat learns your habits. it self-programs, allowing you to save up to 20% on the good old gas bill and relieving you of the anxiety of "Oh my God, I have not turned off the heating", and allows you to manage the system comfortably from your smartphone.
Obviously Nest Themostat it is not only easy to use, but also simple to install. In about 30 minutes, your new thermostat will be up and running and ready to learn everything there is to know about your routine. The cost is around 250 euros.
[amazon_link asins='B01N7MAAWF,B01N282OF9,B077XCD4D8′ template='ProductCarousel' store='gamspri02-21′ marketplace='IT' link_id='9b3a2039-fb3b-11e8-ad1e-e76baadf8259′]
Tado: the thermostat that turns off when you're not at home
We continue to talk about thermostats for your smart home. Tado it's a very different thermostat from Nest. Tado - instead of learning - perfectly execute your orders. The thermostat is very minimal and is accompanied by a very functional application that allows geofencing. That is, it locates you and turns off if you leave home. It lights up again when you are about to return. Another advantage of Tado is the differentiation of the products. In addition to the thermostat, thermostatic valves are also available that allow you to set different temperatures in different rooms of the house. A nice convenience that will save you a lot of money on your gas bill.
[amazon_link asins='B01M0B9P1Q,B01N3383FJ' template='ProductCarousel' store='gamspri02-21′ marketplace='IT' link_id='dbab504f-fb46-11e8-b592-218cd9874edd']
READ ALSO: How to receive +10 euro for free with Hype, N26, Yap, Airbnb, Tinaba and much more
Philips Hue: the smart lights par excellence
Hue is the second light bulb Philips: connected, manageable from your Apple or Android device or dal from the browser and capable of recreating any color present in the visible spectrum. Even in this you will not have to work hard in complex installations. The starter pack it includes 3 light bulbs, which can be screwed almost anywhere, and a bridge that connects them to the internet and acts as a bridge between them and the software. Once connected you can decide the tone and obviously turn them on and offwherever you are.
Obviously there are not only light bulbs but also LED strips that you can attach to any type of surface
[amazon_link asins='B0748MY3S8,B0748MY3RX,B0148NMVQA,B0797WGVWW,B01LZ8QYPI,B016151IPI' template='ProductCarousel' store='gamspri02-21′ marketplace='IT' link_id='b43a87fe-fb45-11e8-a801-f37b9ec6db87′]
1Control Solo: the automatic gate becomes smart
The keys of the automatic gate are always a bore. Often they are forgotten in the maze of some bags or they are forgotten at home. It was born for this reason 1 SOLO control a device - created by an Italian team - that will make your home, villa or building gate intelligent. If you want to know how it works in detail, we recommend that you read our 1Control Solo review.
[amazon_link asins='B071YNRJKH' template='ProductCarousel' store='gamspri02-21′ marketplace='IT' link_id='1a144ab6-fb46-11e8-ab26-f15df994a110′]
Nanoleaf: the light panels that leave you speechless
Let's go back to talking about smart lighting. Among our favorite products is Nanoleaf: it is a series of smart triangular panels that join together according to your imagination. Once set, you can decide the color of each individual panel or give a mood to the entire figure. In short, you can adapt these panels to any of your needs. Obviously, they can also be controlled through the voice commands of Google Home and Amazon Echo. Pay attention to the price, because they are not very cheap.
[amazon_link asins='B075DHJ6JW,B01M0W7NIP,B077BWVXVC,B07CFRD4G3,B07543MM1Y' template='ProductCarousel' store='gamspri02-21′ marketplace='IT' link_id='6219589e-fb4a-11e8-8d44-2d72ca9e040a']
Arlo: the smart cameras for home surveillance
Your home will never be smart if you don't install a connected security camera. Among those available on the market we find Netgear Arlo (product available in different versions). Arlo can be indoor and outdoor, they can be wifi or with SIM. In short, there are models for all budgets and all needs.
[amazon_link asins='B01LR7EU46,B01LR8PG66,B01DVVY81Q' template='ProductCarousel' store='gamspri02-21′ marketplace='IT' link_id='8e8dfdcf-fb47-11e8-8279-c3792fab4c3e']
Google Wifi: home wifi has never been so powerful
If you have a very large house you know what I'm talking about. Have you ever understood that you are in the living room and do not have a shred of wi-fi connection in the tavern or on the second floor of your house? Here, this drama can be solved with Google Wi-Fi, a device capable of amplifying your wireless connection to be able to bring it to every corner of the house, without interruptions and without creating other networks. For the less accustomed, it is a "mesh" system. There are many on the market, but the one produced by Google is the most famous and the easiest to install.
[amazon_link asins='B07D9TY5P3,B07D9TTFTH' template='ProductCarousel' store='gamspri02-21′ marketplace='IT' link_id='e28f1dd8-fb47-11e8-a67f-2d5733856fce']
Neato Botvac D7: the robot vacuum cleaner that maps you home and notifies you when it's done
Robot vacuums are truly the invention of the century. They allow you to always have a clean house and are very autonomous in their work. Among those available on the market we recommend Neato, it is an American brand that is gaining a foothold in our country. It has no cameras, but its sensors are capable of juggling around the house without any problems. Model Botvac D7 it is the latest model and it is the most complete: once connected to the home wifi, you can activate it remotely and check through the generated map which points of the house have not been cleaned due to obstacles or other.
[amazon_link asins='B0764FT1HY,B01KV1C1D6,B07BK29JYX,B07KG239PY' template='ProductCarousel' store='gamspri02-21′ marketplace='IT' link_id='7e3e45d9-fb47-11e8-88db-9d7b031cc98e']
Petnet Smartfeeder: the smart device for the four-legged friend
Petnet Smartfeeder the smart device is your four-legged friend. It is a dispenser smart which will help you choose the best food, the best time and the best amount to give to your dog or cat. All manageable directly from the homonymous application. In short, the smart home obviously also passes by furry tenants, not just those with opposable thumbs ...
[amazon_link asins='B010QYTN2K' template='ProductCarousel' store='gamspri02-21′ marketplace='IT' link_id='58f98fb3-fb47-11e8-98df-47e3c27eadb6′]
Tagscasa hi-tech how to make a house hi-tech gadgets for the house hi-tech products smart home smart home smart home domotica technologies for the house Smart home: 10 technologies for a hi-tech home