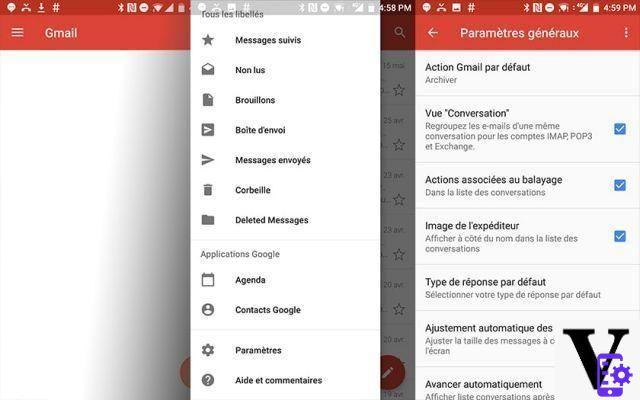 Gmail offers several options to speed up sorting and deleting of your emails, especially when your mailbox is nearly full and you have a large number of messages to delete. Besides the web interface, the Gmail application for Android and iOS also saves a lot of time in sorting your messages. Follow this quick tutorial to learn how to sort your emails at lightning speed.
On PC or smartphone, sorting messages can waste too much time. Fortunately Gmail offers several methods to sort and delete your messages faster.
Gmail: how to delete your emails faster in the web version
The web version of Gmail is undoubtedly the most convenient for deleting and sorting many messages on the fly:
Go to your mailbox by clicking on this link
A small square to the left of each line allows you to check the messages you want to delete (or sort)
Once your messages have been selected, click on the trash can at the top of the list of your emails to delete them
The box on the left above the part that lists your emails also allows you to select several messages without you having to search through the pages. You can directly select all the read, unread or star messages. A very practical option to select thousands of messages at once. By the way, this is the box you should use if you want to delete all your messages on Gmail.
Gmail: delete your messages faster on Android and iOS
By default in the Android and iOS app, your messages are simply archived when you swipe on an email. However, the scan can be reconfigured so that it causes the messages to be deleted.
Delete messages faster on Android
To actually delete your emails faster on the Android app:
Go to the three horizontal lines at the top left then Settings> General settings> Default Gmail actions
Modify the behavior of the right and left swipes as desired so that they delete messages instead of archiving them
In your mailbox, you can now delete your messages by scanning
Delete messages faster on iOS
To delete your messages faster using the Gmail app on iOS:
Go to the three horizontal lines at the top left
Go to Parameters and touch your email address
Go to Action for processed messages and select Place in the trash
You can now simply swipe to delete your emails
Share
Tweet
Share
Envoyer à un ami